sábado, 28 julio 2018
Grandpa and grandchild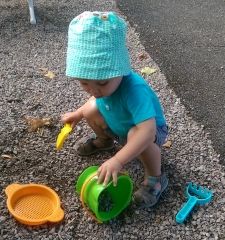 Once upon a time Leon, who is almost two years old, but does not know it, and his grandfather, who has many more years and knows it very well, used to go to the park to play (before lunch or after the nap).
Leon likes sequences and loops. They always collect leaves along the way, go to the slides and swings, pick up stones, sticks or sand in a bucket with a shovel and rake.
He no longer takes out his plush rabbit, since one day he lost it and Dad had to go and look for him so the child could sleep. Luckily he found it! Now the plush rabbit awaits him at home very quiet.
Leon likes big trees with fat roots that stand out. He stops on them, hits the trunk with a pebble as if it were a door, jumps from the roots to the lawn and gives a couple of turns to the tree while speaking in his baby language. He repeats it several times until something different catches his attention.
In the park there is a corner with chickens, ducks and goats. Leon knows the noise that those animals make as well as others like the cows, horses, donkeys, cats and dogs.
For him to accept going home, his grandfather has to be very clever to convince him because Leon would like to stay there all day. For instance, on the way home, Grandpa gives him one or two cookies so he can forget the park while sitting in his stroller.
The routine changes a little each day with a different park or tree or children, but Leon always enjoys those walks.
And if the story does not seem to you too long, we will tell it again and again. Once upon a time...